iTunes
Apple's iTunes Gift card, one of the most preferred technology brands in the world, is a card that allows you to download applications online and offline. Users can purchase music, movies, apps and more through the iTunes Store, based on the amount of these cards that are gifted to them. After purchasing, it can be used by logging into the iTunes Store with customized codes. The product is exclusive to IOS.
With the amount of 25, 50 and 100 TL on the clippings, the user can shop on iTunes
Google Play
Google Play Gift Card is a card that allows you to download movies, books, music and Android apps online and offline. After the purchase process, you need to enter the code in the relevant field in order to activate the specially prepared code. After entering the code, it becomes ready for use.
You can activate the 25 TL – 50 TL 100 TL Google Play card after entering the code and start shopping.
Xbox
Xbox, the software giant Microsoft's game console, is also one of the world's most preferred brands and game consoles. Xbox, which sells every product with millions and is followed with great interest by gamers, offers services to game lovers not only physically but also online with the digital age. Game lovers can gift Xbox TL gift cards to their loved ones.
Xbox Gift Card is a card that allows you to purchase and download game applications in Windows. Users can gift these cards to their loved ones or upload them to their accounts.
After users define their gift, they can shop online for 25 – 50 and 100 TL.
Amazon
The world's most famous e-commerce site Amazon, has great interest since they started in Turkey with different kinds of products. While serving its customers with thousands of different kinds of products, it also offers gift cards for the website. Amazon gift cards are cards that people give to each other and have a TL value. After entering the code of the gift cards received from www.amazon.com.tr, the entire Gift Card balance is loaded with the Request Code amount and people can start using it.
After defining the code on the site with a gift card worth 25 TL, 50 TL and 100, shopping can be started.
AllenCarr
AllenCarr is the largest network of smoking cessation centers in the world, with over 150 centers in 60 countries. According to the results of the Allen Carr Method conducted by independent doctors, the 12-month success rate is between 63.8% and 75.8%, and it is also the most preferred method of quitting smoking.
The huge interest that allencar is seen in the world and Turkey also continues to pursue digital. They quit smoking with the methods they describe in the digital environment they offer for 39.9 TL.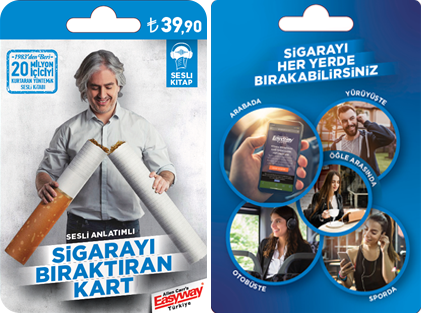 Netflix
Hosting the world's best movies and series from Netflix recently the number of members, especially outside Turkey, has also increased in Latin America and Asia Pacific countries and grew rapidly. Netflix, which is in demand with its movie and TV series contents in different categories, also responds to these demands with digital gift cards. Users can gift Netflix gift cards to their loved ones. At the same time, if they have an existing membership, they can pay the fee for the following months with the amount on the gift card.
Cards worth 75 and 100 TL can be used on Netflix.
Düşyeri TV
Turkey's first digital children's television channel Dusyer TV broadcasts cartoons. Documentary proragms can also be watched outside of the cartoon.
You can gift 1-3 or 12 months subscription with Dusyeri TV gift cards.
D-Smart Go – Welcome Package
D-Smart Go is a platform to watch TV series, movies, documentaries and matches. When a certain subscription fee is paid, you can take advantage of all the content available to you. With the packages suitable for every budget, users choose the package they want and enjoy the fun. It consists of 1-3-6-12 Monthly cards.
More than 200 channels can be watched. Exclusive documentary channels, international news channels, special children's channels, special food and music channels are included in the package. TV live broadcasts, select watch content and record watch feature can be used.
D-Smart Movie Series Package
There are more than 90 TV channels, movies, series, documentary children and entertainment contents with the series movie package. You can take advantage of stop TV, rewind, save TV features.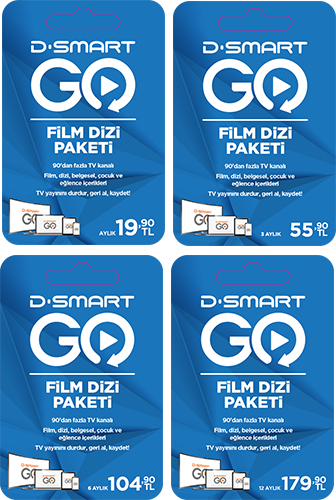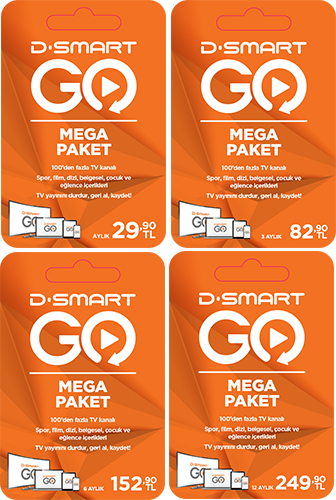 D-Smart Go – Mega Package
It is a 1-3-6 and 12 Month subscription card. It is the card that you can use all channels. More than 100 TV channels can benefit from sports, movies, documentaries, entertainment content, TV broadcast stop, rewind and record features. 1-3-6 and 12-month subscriptions are available.
Digiturk Play
Play Digiturk, Turkey's Super League matches is a platform where you can watch movies and TV series. Digiturk Play, which is very popular with all the matches in the Premier Leagues, Super League, UEFA Europe and UEFA Champions League, Documentary, Film and Entertainment, offers everyone the right to choose a package according to their choices. You can buy Digiturk Play cards for yourself or buy them as a gift to someone else.