OTS Platform, Biotekno R & D Center developed by the Mobiliva and It is the first and only Chain Store Platform in Turkey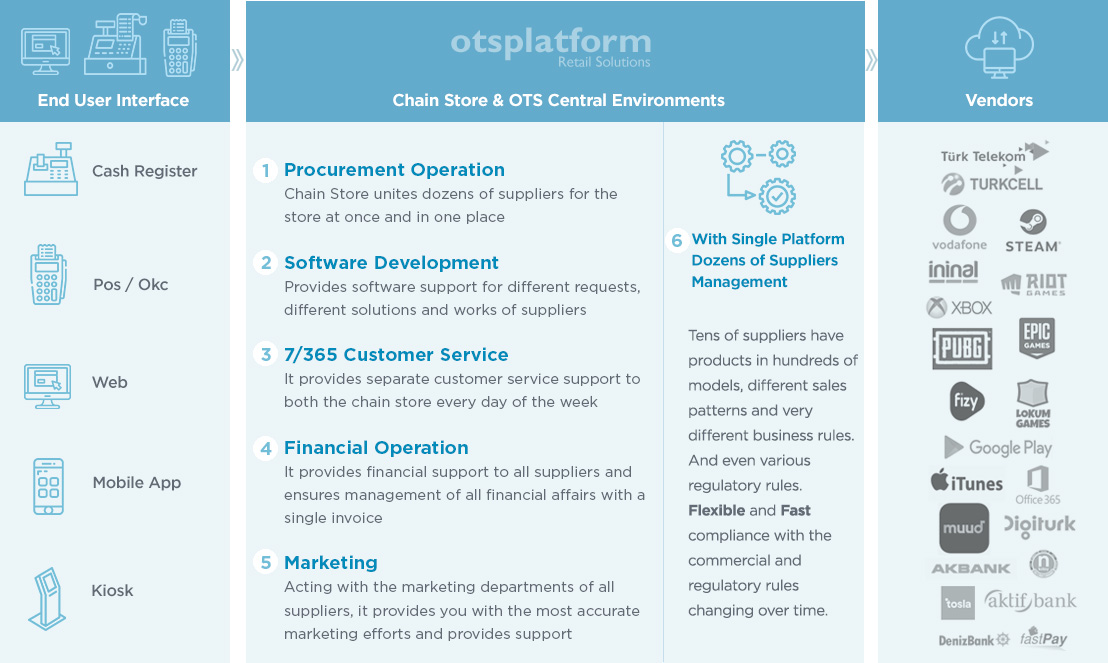 OTS Platform Can Work in 5 Different Environments

Cash Register

OTS Platform plays a key role in delivering thousands of digital products to end users, integrated with chain stores, safes and online platforms. By activating our retail solutions in integrated cash registers, digital product sales can be started.
POS / OKC

Digital product sales can be started by activating our Retail Solutions in the integrated POS / OKC (Payment Recorder).


Mobile Application

Digital products can be sold through the application running on Tablets, Smart Phones located at retail points.
Web

Digital product sales can also be made through websites. Since each Pin / Code / Password has a monetary value, there are important points to be considered in realizing this process over the web.


Kiosks

Thanks to our Retail Solutions through the integrated Kiosks, Digital product sales can be started./span>
Redundancy
We provide 7 x 24 system redundancy.
Partner Environment Management
We provide an environment that can comply with the Cash Register / Pos / ÖKC (Payment Recorder) companies you work with.
Supplier Connection Management
We quickly adapt the type of connection preferred by the supplier. (REST API, Socket Communication, Web Service, FTP etc.)